MON-WED: 8.30-18.00 / SAT-SUN 8.00-18.00
The History of Rapallo Golf and Tennis Club
In Rapallo, golf and tennis are always played all year round, since the spring of 1933
THE ANCIENT HISTORY OF THE RAPALLO GOLF AND TENNIS CLUB
A timeless place where you can breath an ancient history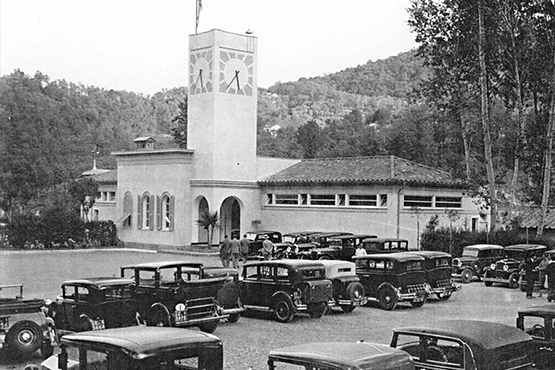 The year is 1929 when the Soggiorno Independent Company began a project of 5 tennis courts and 1 golf course with nine holes, with an overall length of over 2,500 meters, which run along the Boat river, with paths between beeches and chestnut trees. The mild climate and persistent humidity in this green corner behind Rapallo favor the rapid growth of luxuriant vegetation: acacia trees, lime trees, eucalyptus trees, plane trees, and other more exotic species are planted, including many palm trees that remind everyone that here winter is always more clement than elsewhere.
That's why, since then, we have always played in Rapallo for all the year since spring 1933.
And that's why nine holes were soon no longer enough: in 1970 a challenging extension of the course began, with reclamation of marshy land, consistent excavations, drainage excavations and even the diversion of the Boate, and finally the planting of many other plants to crown the 18 holes of Rapallo, which already in the winter of 1971 hosted golfers from all over the world.
The Club was frequented by Dukes of Windsor, Guglielmo Marconi, Set Benelli, Rita Hayworth, Rex Harrison, Bob Hope and more recently Bill Gates, Costantino Rocca, Matteo Manassero, Edoardo and Francesco Molinari, Joost Luiten, Lea Pericoli, Monica Seles, Nicola Pietrangeli, Adriano Panatta, Tathiana Garbin, and Novak Ðokovic, Linda and Cristiana Ferrando.
A fire in the spring of 1987 raged on the building, but not even the violence of the flames managed to alter the sober and elegant structure of the Club House, which was rebuilt faithfully following the ancient design. The Golf and Tennis Club, today owned by the Liguria Region, represents one of the most prestigious calling card of Rapallo. Beyond major sporting and social events that the facility and its elegant Club House continue to host, we must also remember that the coastal town has kept a green area of such importance intact, enriching it with trees such as to make it a real botanical garden, it is only due to the foresight of those who many years ago proposed the construction of the first nine holes and to those who, later in time, wanted to expand it to the current eighteen.
The Presidents of the Golf and Tennis Club:
From 2017 Attilio Riola
2010 – 2016 Giovanni Paolo Risso
2007 - 2009 Gianfranco Bozzini
2003 - 2007 Sergio Gadolla
1998 - 2002 Lorenzo Biagini
1990 - 1998 Silvio Sanguinazzi
1989 - 1990 Riccardo Corradi
1978 - 1989 Ippolito Alberti
1963 - 1978 Filippo Cameli
1947 - 1963 Claudio Schiaffino
1945 - 1947 Giovanni Maggio
1927 - 1940 Silvio Solari
Sports honors:
2014 Care of the Landscape and the Arboreal Park
1999 Seminatore d'Oro
1977 Stella d'Argento CONI (Silver Star CONI - Italian National Olympic Committee)