MON-WED: 8.30-18.00 / SAT-SUN 8.00-18.00
The tennis courts of Rapallo Golf and Tennis Club
The tennis courts of Rapallo Golf and Tennis Club, equipped with artificial lighting, are open every day until 11pm
TENNIS COURTS
A historical link with the territory, an excellence in the heart of the city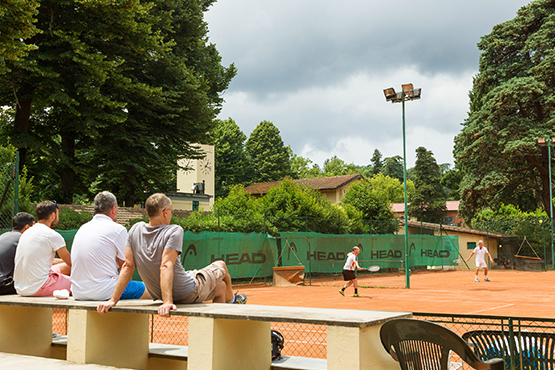 Easily reachable from the city centre and from the Rapallo motorway exit, equipped with ample parking and surrounded by the green of the golf course, the five tennis courts of the Ruentino Club (five in red soil and one in synthetic grass) represent a reference point for the members and for the numerous guests and visitors.
The courts, equipped with artificial lights, are open every day until 11 pm and they are also bookable online. The mild climate allows you to play at all times of the year, during the winter it makes use of an indoor court; this opportunity allows the regular running of courses and activities in general even in the event of adverse weather conditions.
The large and comfortable locked rooms, a small gym and a high quality bar/restaurant complete the offer for tennis players of any level of play and age. The teachers of the Club (qualified technicians recognized by the Italian Tennis Federation) are available to give individual or group lessons.
The tennis activity is completed with the organization of Tournaments covering all levels of category and with the participation of male and female teams in many regional and national events.
Partner of the Club is the Head which organizes meeting to present products and allows the visitors of the Club to try in advance the new rackets in production.
Throughout its history, the Club has hosted high-level national and international events and has welcomed personalities from the tennis world such as Bupi Bacigalupo, Mario Fattori, Lea Pericoli, Monica Seles, Nicola Pietrangeli, Adriano Panatta, Tathiana Garbin, and Novak Ðokovic, Linda and Cristiana Ferrando.
The tennis sector has always been inserted in the territorial context, attracting Members and Guests from all over the Tigullio; the new Management, in synergy with the Municipality of Rapallo, has as its primary goal the strengthening of this peculiarity. Making booking easy, giving the best of services, presenting the courts in order and well cared for and assisting the customer in his requests have the aim of ensuring that the system can be more and more the ideal environment for a pleasant game of tennis.