MON-WED: 8.30-18.00 / SAT-SUN 8.00-18.00
The Rapallo Golf and Tennis Club restaurant
The Rapallo Golf and Tennis Club restaurant offers a covered terrace that looks like a winter garden from which you can enjoy the unique and enveloping atmosphere of the Golf Course
RESTAURANT OF THE RAPALLO GOLF AND TENNIS CLUB
An unmissable food and wine stop in Liguria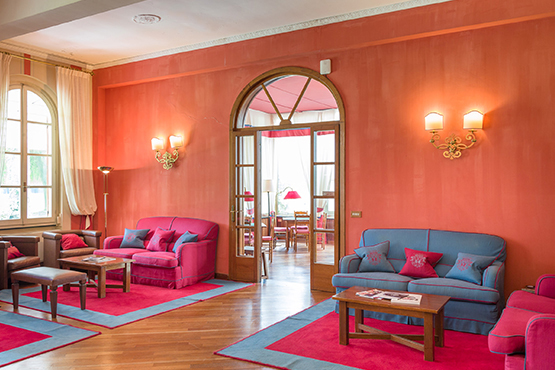 The Restaurant, the beating heart of the club, reinforces the culture of embracing and never intrusive hospitality with its sober but tasteful elegance. The environment is bright and well cared, full of large windows which enhance all the rooms. Wooden floors, handcrafted carpets, pictures and trophies, are the setting for a place that transmits the prestigious history of the Rapallo Golf and Tennis Club.
It is here that Ligurian and Italian cuisine dishes find their place in full respect of the original recipes and ingredients, to live an authentic experience faithful to the ancient taste.
High-quality Italian wines for each needs and prices and raw materials of the highest quality: prawns and shrimps from Santa Margherita Ligure, Piedmontese meat, local mushrooms, Alba truffles and an incredible amount of other ingredients that travel every day from the places of origin to the kitchen of our restaurant.
Creativity in combinations, small touches of color and vivacity of flavors create contrasts that physically meet in a crescendo of harmony of taste.
The Club Sandwich is purely British; it is served you on a table on the veranda, if you only have few minutes of time. As well as the famous "lasagnette al pesto" are equally good which recently won the prize reserved for the best dishes among all the Italian golf Clubs.
The restaurant offers a covered terrace that looks like a winter garden from which you can enjoy the unique and enveloping atmosphere of the Golf Course. The presence of an external veranda allows, in summer, to accommodate up to 200 people. The elegant and refined atmosphere makes the restaurant the ideal location for organizing coffee breaks, light lunches, aperitifs and dinners, business meetings, strictly with a dedicated menu in order to guarantee a unique service.
The Club House is equipped with a large card room, which can also be used for private dinners or conferences if necessary, and there is also a charging point for electric cars.